I'll try to keep it simple. I do not like skeuomorphism at all. It kinda makes sense and works on iOS, because you actually hold the device and touch with your fingers, but whyyyyy on the Mac… hate it. So I had nothing to do and took scissors and brush and pulled the damn leather off my Mac running Mountain Lion. I shared this for a friendly discussion about skeuomorphism and how does it improve anything?

Let's call this an experiment about how the ML would look without skeuomorphism crap.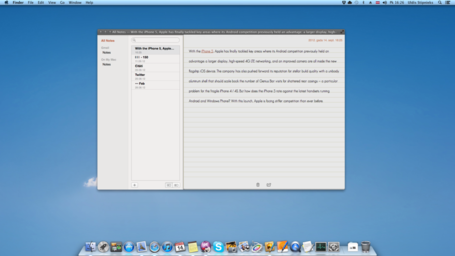 It looks so… Usable! I'm seriously worried about the direction Apple is taking with Mac OS X (( yes, i still call it by its name, Mac OS X! )) and just looking at this experiment makes me understand and have a better feel of why i loathe the current appearance and working of some of Apple's recent apps.
The worst thing about it is that it feels like Jekyll and Hyde. There's effectively two Apples. I fell in love by the clean, minimalistic one and now i'm afraid i will have to endure the ugly, excessive, noveau-riche silly one. I'm still on Snow Leopard very much (also) due to this. Maybe i will update to Mountain Lion but seriously, i'm waiting. And hoping desperately that by 10.9 Apple and Mac OS X will get back on track.
But i make no idle threats. Because, unfortunately, there's no other option out there. And that just makes me sad.